1) All visitors to the hospital now require proof of vaccination or documentation of a medical exemption.   Use your smartphone to check-in at screen.tehn.ca before you arrive, or do the in-person screening at the Coxwell entrance.        2) Wear a face mask when you come to hospital.  The mouth and nose must be covered.       3) Sit 2 metres (6 feet) away from the other patients. 
To save time, complete and print out the NEW PATIENT REGISTRATION FORM                                ——————————————————>
Please remember, if you have a fever, new cough or runny nose, new shortness of breath or sore throat, diarrhea, new loss of smell, or conjunctivitis, you will NOT be allowed in the hospital.  
Due to COVID spacing requirements all able-bodied adult patients should come to the office ALONE.  Parents cannot accompany their Adult Children unless the child has developmental delay.  Spouses cannot accompany able-bodied patients.   Family MUST wait in the car or outside the hospital.  If a family member wants to hear the conversation or help translate, bring 2 cellphones and we can use your speakerphone once the exam starts.   If your family member does not speak English, complete the new registration form for them before you come to the office.  
If we are running behind schedule and you can walk easily, please give the office manager your cell phone and return to your car.   The hospital has closed the former K-wing entrance indefinitely.  We understand it is a long walk.  Thank you for following the hospital rules during these trying times.
==========================
Dr. Edsel Ing is an ophthalmologist (M.D. eye physician and surgeon). He sees adults and children who require eyelid plastic & reconstructive surgery (Oculoplastics), orbit surgery, and eye muscle realignment surgery (Strabismus). He is also a Neuro-ophthalmologist.
Welcome to the office.  We hope we can provide some "wisdom" and shed "light" (sapientia et lux) on your ophthalmic problem.
Conditions that Dr. Ing specializes in include:
EYELID SURGERY: Droopy Eyelids, Eyelid Cancer, Botox injections, Ptosis, Dermatochalasis, Ectropion, Entropion, Blepharospasm, Bells palsy, Hemifacial spasm, Chalazion, Eyelid lumps and bumps, Eyelid trauma
STRABISMUS SURGERY: Misaligned eyes, Esotropia, Exotropia, Hypotropia, Hypertropia, Thyroid associated strabismus, Double vision
ORBITAL SURGERY: Graves orbitopathy, Orbital tumours, Enucleation, Evisceration
NEURO-OPHTHALMOLOGY: Surgery for intractable double vision, Surgery for Bells palsy, Surgery and Botox for blepharospasm and hemifacial spasm, Cranial nerve palsies, Biopsies, Optic nerve sheath fenestration, Hemianopsia
** Please note:  We do NOT see patients after they have had cosmetic surgery done elsewhere.  Such patients should continue with their original surgeon.**
Dr. Ing completed 9 years of medical school and specialty training at the University of Toronto, and then 3 extra years of advanced specialty training (fellowships) at the Mayo Clinic, Wills Eye Hospital and Allegheny General Hospital.  He also obtained a Masters of Public Health from Harvard, a medical education certificate from Johns Hopkins University, the Global Scholars research training certificate from Harvard, completed the National Board of Public Health Examiners certification exam, completed a health care PhD and a masters of political science.  He is section editor for the Canadian Journal of Ophthalmology, the Canadian Journal of Diagnosis and emedicine Medscape Ophthalmology.  
Dr. Ing is a Professor of Ophthalmology at the University of Toronto, with more than 100 publications, and hundreds of lectures.  He has received the PARO and Aikins teaching awards.
The office is in the K wing (yellow brick building), 3rd floor, of the Michael Garron (Toronto EAST General) Hospital, near Coxwell and Danforth.
Subway: use Coxwell station, and walk 5 minutes north, or take the northbound bus #70 or 70A to Sammon Ave. 
PARKING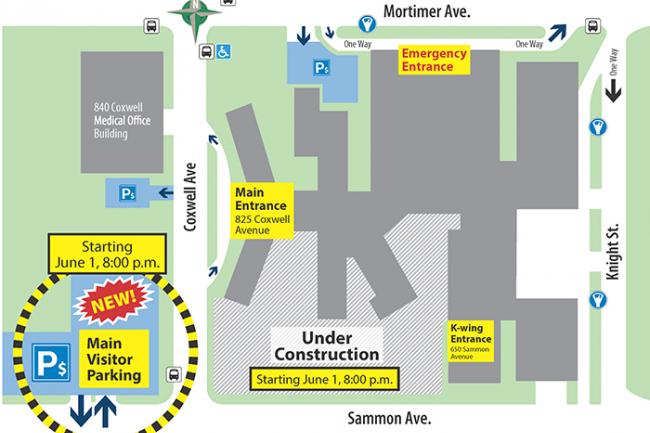 ADDRESS:  Michael Garron (Toronto East General) Hospital, 650 Sammon Avenue, K wing, Room 306.  Toronto, ON, M4C 5M5.  MAP and driving instructions.
APPOINTMENT REQUESTS:  New patients require a physician referral faxed to (416) 385-3880.  The doctor's OHIP referral # should be listed on the consult.
DAY OF APPOINTMENT:  Wash your hands.  Plan up to a 2-3 hour visit. Wear a face mask.  Bring:
1) A valid OHIP card
2) Medication bottles / Prescriptions
3) List of past medical problems, operations, hospital admissions
4) CD rom of head scans if done at another hospital
5) Old pictures of yourself (may help with diagnosis)
** The information on this website is for Canadian patients **